Mandera County Inducted at the School
November 17, 2022
2022-11-17 14:10
Mandera County Inducted at the School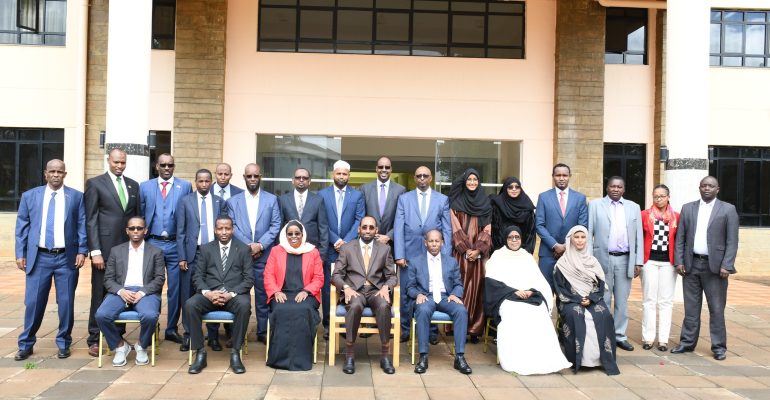 Mandera County Inducted at the School
Mandera County Governor, Mohamed Adan Khalif, has this morning opened an Induction Course for the County Executive Committee (CECs) at Kenya School of Government Lower Kabete. The Governor was received by the School's Director General Prof. Ludeki Chweya, Director Finance, Administration Prof. Nura Mohamed, and Deputy Director Learning and Development, Dr. Rukia Atikiya.
Governor Khalif has acknowledged AMREF- Kenya for partnering with County Governments in building the capacity of leaders and has further urged the CECs to ensure that through the training, they will serve the citizens of Mandera wholeheartedly.
The Kenya Learning and Development Centre (KDLC), later e-Learning and Development Institute (eLDi), is the product of a joint funding Agreement between the Government of Kenya and the World Bank (International Development Association) in November 2003. The project aimed at strengthening the capacity of Kenyan civil servants and policy makers for proper planning and implementation of social and economic development strategies and programs. For purposes of operationalization, KDLC was anchored in the Ministry of State for Public Service in 2003 by an order of the Minister of Education, Science and Technology under section 10 of the Education Act Cap 211 of the Laws of Kenya.
The project was located at the Kenya Institute of Administration (KIA) and became a member of Association of Africa Distance Learning Centers (AADLC and an affiliate of the Global Development Learning Network (GDLN), a worldwide partnership of over 120 learning centers in 80 countries around the world that use advanced technologies and distance learning techniques innovatively to connect people working on development around the world for capacity building events.
KDLC was equipped with state-of-the art Information Communication Technologies that includes an air conditioned and sound proof video conference room and multimedia laboratories with high speed internet.
In 2012, the Implementation Committee mission assessed the KDLC Monitoring and Evaluation (in full) system and was generally gleaned as reliable and appropriate for the types of data KDLC was collecting. Assessment [of the 2008 -2011] specifically gleaned that KDLC had successfully offered over 364 capacity development training events of which 80 are Multimedia; 271 video conferences; and 13 face-to-face events. These skill development and capacity building programs, addressed learning programs such as:
Financial Management
Micro-Finance
Electronic Records
Management
Leadership Dynamics for Senior Women Managers
Combating Corruption in Procurement
Fraud Investigation, Detection and Prevention
Strategic Environment Assessment
Development Policy; and
Project Monitoring & Evaluation.
When the Kenya School of Government Act became effective on July 1st 2012, KDLC [now eLDi] joined GTIs and KIA to form the School.