KSG and NSG, SA to Collaborate
November 17, 2022
2022-11-17 14:04
KSG and NSG, SA to Collaborate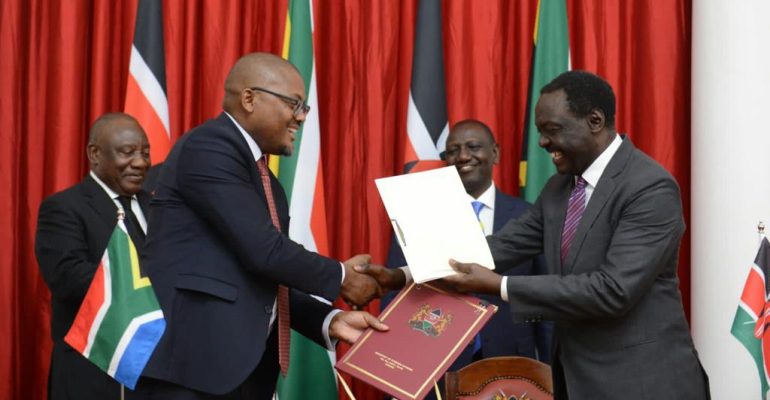 KSG and NSG, SA to Collaborate
KSG and the National School of Government of South Africa have entered into a Memorandum of Understanding for collaboration and cooperation for delivery of capacity building, consultancy, research and joint publications that will promote national development and proficiency in the Public Service.
The MoU was signed by KSG Director General, Prof. Ludeki Chweya and the Principal of NSG, Mr. Busani Ngcaweni at a ceremony witnessed by the President of Kenya, H.E. William Ruto and H.E. Cyril Ramaphosa, President of South Africa at State House, Nairobi.
On the MoU between KSG and NSG, it is worth noting that both Schools of Government have similarities in terms of their formation, affiliations and operations. While KSG is a state corporation established under the Kenya School of Government Act (No. 9 of 2012), NSG was established in terms of section 4(1) of the Public Service Act, 1994 (Proclamation 103 of 1994) in the Republic of South Africa.
They are members of the African Management Development Management Institute Network (AMDIN), an association of Management Development Institutes in the African continent liable for exchanging knowledge and sharing of best practices with other like-minded institutions with a common vision in the areas of capacity building in the public service. Prof. Chweya is the President of AMDIN responsible for the coordination of the activities of the Network.
Their similar operations in capacity development, research, policy advisory and consultancy services are relevant for the partnership that seeks to collaborate in; exchange of information and expertise through study visits and cross fertilization of programs, joint research, and conferencing and seminars, co-publishing of research articles and any other areas of interest.